What is homeowners insurance? A homeowners insurance policy protects you and your home against property damage and losses from events like theft, fire, catastrophes, natural disasters, and injury.
Homeowners insurance doesn't refer to a single type of coverage, it's more like an entire group of different types of policy features that all protect the same things; you, your belongings, and you're home based on your specific requirements.
Homeowners insurance doesn't refer to a single type of coverage, it's more like an entire group of different types of policy features that all protect the same things; you, your belongings, and you're home based on your specific requirements.
Because the needs of policyholders can be drastically different, homeowners insurance policies are offered in a wide range of policy types with different coverage levels, and options from basic bare-bones dwelling policies to full-scale comprehensive coverage.
In most cases, the type of policy you will need is going to be dictated by your mortgage lender, if you have one.
Is Homeowners Insurance Required?
The most common scenario where homeowners Insurance is required is when you are using a mortgage to purchase your home. Since the mortgage lender has so much money invested in your home, they want that investment protected.
Most mortgage lenders are going to require a replacement cost coverage policy, this is often referred to as a "Standard Policy". In most cases, the lender will even make those payments, they do this from a prepaids escrow account that gets set up at the time of closing.
If you are paying cash, or own the home free and clear, there should be no requirements for homeowners insurance.
Even if homeowners insurance is not required, given the cost of rebuilding or repairing damages, it is certainly a good idea to protect your investments with some level of homeowners coverage.
The mortgage lender will want to know that the house can be rebuilt in case of any damage or destruction. Most lenders are going to require that the house is covered for 100% of its replacement cost.
Another scenario we see homeowners insurance requirements is in an HOA or Home Owners Association. When you live in a condo, there is a homeowners association to take care of all exterior maintenance issues and repairs. This association already has an insurance policy, but its policy will cover the structure of the building and other common areas.
Your individual unit is still your responsibility and you will not be protected by the association's policy. In such a case, you can buy a separate policy for yourself that will protect your personal belongings. Should there be a theft, damage, personal injury, or any other incident, you can make a claim and get coverage.
Property managers and landlords will often require that their tenants purchase a renter's insurance policy because it provides an extra level of protection for the homeowner. Renters insurance is considered a form of homeowners insurance. This policy protects the renter's belongings and provides liability coverage against injuries that occur on the property as well.
How Does Homeowners Insurance Work?
Homeowners insurance offers coverage against loss or liability in three major categories:
Damage to the exterior and interior of the property – In the event your home is damaged or destroyed by fire, hurricane, lightning strike, or another covered peril, your insurance company would compensate you for the repair or rebuilding of your home. This is called a covered loss and includes other structures located on the property like sheds' barns and fences.
Damage or loss of personal belongings – This includes things like clothes, furnishings, appliances, and much of the other stuff in your home are covered if they're destroyed by a covered peril. It is also possible to add "off-premises" coverage to your policy, this enables you to file a claim no matter where the loss occurs.
Liability for accidents or injuries that occur on the property – Provides protection from lawsuits filed by others. This clause even protects from liability issues related to your pets!
A standard policy should cover all four of these categories, while other policy types may only cover certain portions of this list. For example, a renters policy only covers belongings and liability, not dwelling, while an HO-1 policy only covers the dwelling.
In addition to paying for repairs, or replacement, a standard policy should also pay for temporary lodging while repairs are being made to the home.
Not all homeowners insurance policies offer the same level of coverage. There are actually eight different types of policies, these run the gamut from basic to comprehensive.
What is Not Covered?
Homeowners Insurance covers a wide range of situations and scenarios but there are some events and situations that are usually excluded from coverage.
Acts of God – This would be considered as an event that happens which is outside the realm of human control, or can't be predicted or prevented. Events like earthquakes, hurricanes, and floods are all considered acts of God.
Acts of War – This refers to any loss resulting from events like war, invasions, insurrections, riots, strikes, or terrorism. There is specific insurance to cover these types of events. Acts of war are excluded from standard insurance policies due to the high risks involved. There are war risk insurance policies available.
There is also a category of perils or events that are not included on a standard policy but can be covered with additional coverage riders. For example, hurricanes, earthquakes, and floods all require separate coverage at an extra cost.
Actual Cash Value vs Replacement Cost
Another important aspect of homeowners insurance is the way the policy actually pays for damages, Actual Cash Value (ACV), or Replacement Cost.
Under the replacement cost model, the insurance company simply pays for the replacement of the item with a new or comparable item. It doesn't matter what age or condition the item was in at the time of the claim.
In an actual cash value (ACV) scenario, the insurance company will depreciate the item for things like age or wear and tear. This type of policy essentially pays out what the item was worth at the time of the claim.
For example, if your 10-year-old roof is totaled by a hail storm, the insurance company will pay for the replacement but will subtract for the age of the roof. Let's say $5,000 is the depreciation estimate, and your deductible is $2,000. On a $12,000 roof replacement, your share of the cost would be $7,000 and the insurance company would pay the remaining $5,000.
The 8 HO Policy Types
There are eight common levels of homeowners insurance coverage, HO-1 through HO-8. These policies are used for different types of situations. For example, an HO-1 is a basic policy that provides dwelling coverage only, while HO-4 is strictly for renters.
What are Perils?
Peril describes a specific cause of damage or injury that relates to a property or people on the property. There are two types of perils "named peril, and "open peril", named perils consist of 16 events that an acceptable homeowners policy should cover.
Named Perils
Here is a list of the "16 Named Perils" found in most standard homeowners insurance policies:
Fire and/or lightning
Windstorm and/or hail
Explosion
Riots
Aircraft
Vehicles
Smoke
Vandalism
Theft
Falling objects
Weight of ice, snow, or sleet
Accidental discharge or overflow of water or steam
Sudden and accidental tearing, cracking, burning, or bulging
Freezing
Sudden and accidental damage due to short-circuiting
Volcanic Eruption
Open Perils
Open perils a.k.a. "All Perils" is everything else that could cause damage, minus any exceptions the insurance company places in the policy.
An HO-5 policy is an open peril policy that provides you with the highest level of protection. In this policy, unless the peril is specifically excluded by the insurance company, it's covered.
A good example of a named exclusion would be "Construction Defects". Let's say the fireplace in your new home was incorrectly installed. This improper installation results in flames and smoke causing damage to the home. A standard homeowners insurance policy would not cover the fireplace but it would cover the damage to the home from the smoke and flames.
It is common to see "open perils" associated with the dwelling portion of an HO-3 homeowners policy while the personal property side of the policy that covers the rest of your belongings is named peril.
It is possible to add open perils coverage to a standard policy but with a higher insurance premium.
Dwelling Coverage
Dwelling coverage is the foundation of most homeowners insurance policies and is the only lender requirement. The mortgage lender will require that the dwelling coverage portion of your homeowners insurance policy covers the replacement cost In most cases this will require an HO-3 policy. 
In the case of dwelling coverage for a standard homeowners policy, depreciation isn't used to calculate the payout. The insurance company will pay to rebuild using materials of similar quality.
The cost of the insurance policy will actually be included in your mortgage payment. If on the other hand, your loan to value ratio is low, you will have the option to pay your premiums separately. However, your lender will probably charge you extra fees for this option.
Liability Coverage
Liability insurance helps the policyholder cover medical bills and repair costs if they are responsible for another person's injuries or property damage.
This coverage is also available to renters in an HO-4 renters policy, it helps cover legal expenses if the renter gets sued over an incident that occurs in the rental property.
Renters often assume that the landlord's insurance policy will cover any issues they have at or on the property, this is incorrect. The landlord should have a separate policy that protects them and their interest in the property only. The liability portion of that policy protects them from liability issues .that arise with the tenant and that relate to negligence on the landlord's behalf.
While a visitor to the property might have a case against the landlord in the event of their negligence, the brunt of the liability would come down on the renter, not the landlord. this is why many landlords and property managers make a renter's policy mandatory for their properties.
There are policy limits to the amount an insurance policy will cover. Standard liability limits tend to be $100,000, the policyholder does have the option of purchasing a higher limit. You should discuss your situation and your potential needs with your insurance agent. It is better to be overinsured than underinsured.
Personal Property Coverage
Personal property coverage is for your personal belongings. This covers things like your furniture, clothes, electronics, and other personal items. If the claim is for a covered loss the coverage extends to anywhere in the world you suffer the loss.
Deductibles
Most homeowners insurance policies have a deductible which the policyholder pays in the event of a claim. The deductible is out-of-pocket money the policyholder pays before the insurance pays.
There are different theories about why insurance companies require deductibles, the most likely reason is that the policyholder has some financial responsibility for the claim. The idea is the deductible means the policyholder it's serious because they have some skin in the game.
Let's say you have a roof claim due to a hail storm. The roof replacement will cost $12,000 and you have a $2,000 deductible. Your portion of the new roof is $2,000 this comes out of your own pocket, and the insurance company will pay the balance of $10,000.
It is important to note that you have control over how much you want the deductible to be. As a general rule, the more expensive the policy, the lower the deductible.
Recoverable Depreciation
Many replacement cost homeowners policies have a recoverable depreciation clause. Recoverable depreciation is the difference in cost between the actual cash value of the claim and the replacement value.
If your replacement cost policy has a recoverable depreciation Clause, the insurance company will pay you the actual cash value amount upfront. Once the repairs are complete oh, they will pay the remaining recoverable depreciation cost.
Insurance companies do this to cut down on fraud. It's not uncommon for homeowners to use the check they receive for a roof replacement to buy a new car or go on vacation. This doesn't become a problem for them until they try to sell the home and upon inspection find out that the roof wasn't replaced, and the insurance money for the roof replacement was used on a trip to Disneyland.
Using recoverable depreciation helps minimize the insurance company's losses from fraud.
Shopping Around for a Policy
Lenders do require you to buy a home insurance policy, but they provide you with the freedom to choose any provider you like. There are many insurance companies that charge varying rates and provide you with different coverage levels.
Before you choose a provider, compare them on the basis of a number of factors such as the coverage levels, the premium amounts, deductibles, and so on. Needless to say, a policy available at a lower rate will not always be a great choice because it may not provide you with adequate coverage. Also, review their claim policies and make sure you are satisfied with the terms. How To Save On Home Insurance and Still Get the Most Out of It.
Factors that Can Affect Your Premiums
Roof
The condition of your roof has a direct effect on your premiums. If your roof is made from a material that resists impact, you can get a discount of up to 20% for your premium rates.
In some cases, a roof can be considered uninsurable such as when you have a t-lock or wood shake roof. Should this be the case, you may have to replace the roof or exclude the roof from your policy.
Electrical Systems
A roof must pass the qualifications of your insurance provider, but this is not exactly the case with electrical systems. The only condition required by Insurance companies is that the electrical system meets current codes and should have been updated once in the last 25 years.
Location of the Fire Department
Surprising as it may seem, this does affect your premiums. If the fire department is more than a couple of miles away, your rates could be higher.
Home Age and Construction
If your home is old or bigger, you will have to pay higher premiums. Construction material also affects the rates; masonry and brick homes reduce premiums since they can reduce the damage caused by fire or wind.
Deductibles
We have already mentioned this; if you agree to pay a higher deductible, your premiums will reduce.
There are other factors a well which can affect premiums such as your credit scores, insurance claims history, and the location of your house.
Other Insurance Policies Which You May Need
Flood Insurance
Administered by the Federal Emergency Management Agency or FEMA, a flood insurance policy is required at an additional cost if you live in an area that is prone to flood. If risks of flood damage are high, lenders may make it mandatory to obtain flood coverage. Flood coverage is not included in a standard homeowners insurance policy. Many providers offer it if requested by the homeowner. If your carrier does not offer flood insurance, you may purchase a policy through FEMA.
Some water damage is covered by homeowners insurance, as long as it is not due to flooding. For example, if a water heater bursts and causes water damage to your personal items or nearby sheetrock, the damage would be covered.
Earthquake Insurance
Although not historically an issue here in the State of Colorado, it is still worth mentioning. An earthquake is another incident that is not covered by a standard homeowners insurance policy. If you live in an area where quakes are frequent, you may want to buy this policy. However, you will have to pay a deductible amount that is higher than what you will have to pay for the standard policy.
The HO-3 policy is becoming the most popular policy for new homeowners in spite of being a named perils policy. Policyholders can upgrade the policy to remove the named perils and essentially make this policy more similar to an HO-5 without the cost.
Keeping Up With Your Policy
It's important that you keep your homeowners insurance policy current. This means as you make improvements or the price of your house increases, you should increase the coverage of your policy.
Experts recommend reviewing your insurance policy annually. This means taking a detailed look at your policy, and coverage limits. Your insurance agent should be able to help with this.
In Conclusion
Homeowners insurance is a very complex topic but that doesn't mean you shouldn't understand the benefits and drawbacks of owning a policy.
Rising material costs, changing weather patterns, and escalating real estate prices make carrying a homeowners insurance policy a good idea even if it's not required. Not to mention the peace of mind you'll gain by knowing you are covered.
Since the number of homes for sale is low today, it can feel challenging to find one that checks all your boxes. But if you know which features are absolutely essential in your next home and which ones are just nice bonuses, you can land a home that fits your needs.
Danielle Hale, Chief Economist for realtor.com, explains it like this:
"Focus on the goal you set out for yourself, like your list of must-haves and nice-to-haves and your budget, . . . Stick to that. Be persistent."
So how do you go about creating your list of desired features? The first step is to get pre-approved for your mortgage. Pre-approval helps you better understand your budget, and that plays an important role in how you'll craft your list. After all, you don't want to fall in love with a home that's too far out of reach.
Once you have a good grasp of your budget, you can begin to list all the features of a home you would like. Here's a great way to think about them before you begin:
Must-Haves – If a house doesn't have these features, it won't work for you and your lifestyle (examples: distance from work or loved ones, number of bedrooms/bathrooms, etc.).
Nice-To-Haves – These are features that you'd love to have but can live without. Nice-To-Haves aren't dealbreakers, but if you find a home that hits all the must-haves and some of the these, it's a contender (examples: a second home office, garage, etc.).
Dream State– This is where you can really think big. Again, these aren't features you'll need, but if you find a home in your budget that has all the must-haves, most of the nice-to-haves, and any of these, it's a clear winner (examples: farmhouse sink, multiple walk-in closets, etc.).
Finally, once you've created your list and categorized it in a way that works for you, discuss it with your real estate advisor. They'll be able to help you refine the list further, coach you through the best way to stick to it, and find a home in your area that meets your needs.
Bottom Line
Crafting your home search checklist may seem like a small task, but it can save you time and money. It's also one of the keys to being successful in today's competitive market. Let's connect so we can work together to find a home that fits your wants and needs.
Simple kitchen and bath improvements can leave home shoppers swooning over a listing, according to a new study by Knock, a site about homeownership.
Homes are selling fast, but certain home updates can help them sell even faster. An updated home can sell an average of 30% faster than a home without improvements, the analysis shows.
Knock compared the average days on the market for homes that are updated before being listed with those that sellers leave as is. It pinpointed which home updates tend to result in the fastest sales.
"Getting a home ready for sale can be a stressful experience, and the supply chain constraints and contractor backlogs brought on by the pandemic have made it even more difficult to get work done," says Sean Black, co-founder of Knock. "Three years ago, homeowners had to put a lot more work into their home before listing it. However, even in the current market with homes selling in record time, the data continues to support the benefits of getting your home show-ready."
Knock was selected for the 2021 REACH class, a technology accelerator program through Second Century Ventures, the strategic investment arm of the National Association of REALTORS®.
Homes with modern renovations sold in an average of eight days, compared with an average of 12 days without improvements. Homes with two or more improvements sold in an average of six days, according to Knock.
The most common home improvement: interior and exterior paint. Seventy percent of sellers painted their walls, spending an average of $3,500.
But freshly painted kitchen cabinets, which cost an average of about $1,319, really help buyers fall in love with a house, the study shows.
Here are the updates that consumers say they most loved about a house.
New Year, Same Housing Market
Quick Take:
Historically low supply continues to drive up home prices across the nation. However, home price increases are decelerating after the record-setting gains experienced over the past two years.
The number of homes sold in 2021 is one of the highest on record.
Current inflation levels imply a negative borrowing rate because mortgage rates are below 6%. This means that borrowers are getting paid to borrow and should pay as little principle as possible until inflation recedes.
The average 30-year fixed mortgage rate remained historically low, at 3.11% at the end of December 2021. But the Fed has indicated there will be at least two rate hikes in 2022.
Will the housing shortage reverse?
The driving force behind the substantial price increases over the past two years has been the supply of homes, or lack thereof. So, will the housing shortage reverse? The answer is no, as there is no reasonable scenario that would bring active listings to pre-pandemic norms. Before February 2020, seasonal inventory typically peaked in the summer months, but it was trending slightly lower each year. In 2016, inventory peaked at 1.55 million active listings, and by 2019, the peak fell to 1.35 million homes. Inventory in 2021 reached its highest point at approximately 621,000, a 54% decline over two years. Homebuilders simply cannot build fast enough, especially in sought-after urban areas that have already been developed, and new listings are peaking far lower than the historical seasonal norms.
At the same time, we are on pace to see around a million more homes sold in 2021 than in a typical year, based on the long-term average. In other words, more homes are selling, despite the historically low inventory, which is further driving down inventory. In 2022, we expect demand to remain elevated and supply depressed, which should keep home prices from depreciating.
Price appreciation likely will not see the record gains we experienced over the past two years, which is actually good. If we learned one thing from the mid-2000s, we know that we don't want another housing bubble. The deceleration in price increases, therefore, actually benefits the current market. From a practical standpoint, home prices rising at 20% per year is unsustainable and would certainly cause a major collapse. Moving through 2022, we expect year-over-year price increases to move back to historical norms, in the 5–10% range.
Fed rate hikes in 2022 could drastically affect appreciation as well, which, again, isn't a bad thing. The low-cost financing we've seen over the past two years could be coming to an end (although it's difficult not to take a believe-it-when-I-see-it-approach to rate increases). When we account for current inflation, which is the highest it's been since 1981, the real rate of borrowing is negative if you borrow at a rate below 6.8%. Simply put, you're getting paid to borrow! We don't expect this phenomenon to last long — it's a fairly unique situation.
The market remains competitive for buyers, but conditions are making it an exceptional time for homeowners to sell. Low inventory means sellers will receive multiple offers with fewer concessions. Because sellers are often selling one home and buying another, it's essential that sellers work with the right agent to ensure the transition goes smoothly.
Home prices still have room to run in 2022
After single-family home prices appreciated significantly in the first half of 2021, it makes sense that prices would decline in the third and fourth quarters. North and East Bay prices experienced the most substantial decrease in the second half of the year, although all regions declined. However, as inventory continues to decline, as is typical in the winter season, prices will likely increase.
Condo prices declined less significantly in the second half, and San Francisco condos increased to a record high in November. This is the first new high we've seen in over a year in San Francisco. The pandemic hit demand for condos hard, but price and sales indicate that demand is back. Although the price appreciation wasn't as pronounced for condos as it was for single-family homes, we expect price appreciation to slow as we move through the winter months, a seasonal norm.
Nearing record low inventory once again
Despite the slight increase in single-family home inventory in the first half of 2021, the sustained high demand and lack of new listings in the second half brought single-family home and condo supply to near historic lows. Once again, we are seeing that far more people want to live in the Greater Bay Area than want to leave. Sales in the Bay Area have been incredibly high, especially when accounting for available inventory, again highlighting demand. Sellers can expect multiple offers, and buyers should come with competitive offers.
Months of Supply Inventory further indicates high demand
Homes are still selling extremely quickly. The Days on Market reflects the high demand for homes in the Greater Bay Area. Buyers must put in competitive offers above the list price of the home.
Months of Supply Inventory (MSI) quantifies the supply/demand relationship by measuring how many months it would take for all current homes for sale on the market to sell at the current rate of sales. The average MSI is three months in California, which indicates a balanced market. An MSI lower than three indicates that there are more buyers than sellers on the market (meaning it's a sellers' market), while a higher MSI indicates there are more sellers than buyers (meaning it's a buyers' market). MSI in the Greater Bay Area is historically low for single-family homes and condos, indicating a strong sellers' market.
If you're following along with the news today, you're probably hearing a lot about record-breaking home prices, rising consumer costs, supply chain constraints, and more. And if you're thinking about purchasing a home this year, all of these inflationary concerns are likely making you wonder if you should wait to buy. Investopedia explains that during a period of high inflation, prices rise across the board. And while home prices aren't immune from this increase, here's why inflation shouldn't stop you from buying a home in 2022.
Homeownership Offers Stability and Security
Home prices have been increasing for quite some time, and experts say they're going to continue to climb throughout 2022. So, as a buyer, how can you protect yourself from rising costs for things like food, shelter, entertainment, and other goods and services? The answer lies in housing.
Buying a home allows you to lock in your monthly mortgage payment for the foreseeable future. That means as other prices rise, your monthly payment will be consistent thanks to your fixed-rate mortgage. This gives you the peace of mind that the bulk of your housing costs is shielded from inflation.
James Royal, Senior Wealth Management Reporter at Bankrate, says:
"A fixed-rate mortgage allows you to maintain the biggest portion of housing expenses at the same payment. Sure, property taxes will rise and other expenses may creep up, but your monthly housing payment remains the same."
If you rent, you don't have that same benefit and you won't be protected from rising housing costs. As an added incentive to buy, consider that today's mortgage interest rates are lower than they have been in decades. While inflation decreases what your dollars can buy, low mortgage rates help counteract it by boosting your purchasing power so you can get more home for your money. They also help keep your monthly payments down. This is especially important during an inflationary period because you'll want to protect yourself from the impact of inflation as much as possible.
Ali Wolf, Chief Economist at Zonda, explains:
"If you have cash and are expecting inflation, you want to think through where you can put your money so it does not lose value. Housing is commonly looked at as a good inflation hedge, especially with interest rates so low."
The best hedge against inflation is a fixed housing cost. That's why you shouldn't let it stop you from buying a home this year. Not sure where to start? Let's connect so you have expert advice and help throughout every step of the homebuying process.
If you're looking to buy a home, you may want to put these items on your to-do list to ensure you hit your goals.
It's important to start working on your credit and saving for a down payment early. When you're ready to begin your search, work with a real estate professional and get pre-approved so you know how much you can borrow.
Connect with us so you have the guidance you need to achieve your homebuying goals this year.
As we move into 2022, both buyers and sellers are wondering, what's next? Will there be more homes available to buy? Will prices keep climbing? How high will mortgage rates go? For the answer to those questions and more, we turn to the experts. Here's a look at what they say we can expect in 2022.
Odeta Kushi, Deputy Chief Economist, First American:
"Consensus forecasts put rates at about 3.7% by the end of next year. So, that's still historically low, but certainly higher than they are today."
Danielle Hale, Chief Economist, realtor.com:
"Affordability will increasingly be a challenge as interest rates and prices rise, but remote work may expand search areas and enable younger buyers to find their first homes sooner than they might have otherwise. And with more than 45 million millennials within the prime first-time buying ages of 26-35 heading into 2022, we expect the market to remain competitive."
Lawrence Yun, Chief Economist, National Association of Realtors (NAR):
"With more housing inventory to hit the market, the intense multiple offers will start to ease. Home prices will continue to rise but at a slower pace."
George Ratiu, Manager of Economic Research, realtor.com:
"We also expect a growing number of homeowners to bring properties to market, taking some pressure off high prices and offering buyers more options."
Mark Fleming, Chief Economist, First American:
"Strong demographic demand will continue to act as the wind in the housing market's sails."
What Does This Mean for Buyers?
Hope is on the horizon for 2022. You should see your options grow as more homes are listed and some of the peak intensity of buyer competition starts to ease. Just remember, rising rates and prices are a great motivator for you to find the home of your dreams sooner rather than later so you can buy while today's affordability is still in your favor.
What Does This Mean for Sellers?
Make no mistake – this sellers' market will remain in 2022 as home prices are projected to continue climbing, just at a more moderate pace. Selling your house while buyer demand is so high will truly put you in the driver's seat. But don't wait too long. With more listings projected to become available, your ideal window of opportunity to stand out from the crowd won't last forever. Work with an agent who knows your local market and current inventory conditions to ensure you have the support you need to make an educated and informed decision about selling in the coming year.
If you're thinking of buying or selling, 2022 may be your year. Let's connect to discuss your goals and the unique opportunities you have in today's housing market.
Once you've found your dream home and applied for a mortgage, there are some key things to keep in mind before you close. It's exciting to start thinking about moving in and decorating your new place, but before you make any large purchases, move your money around, or make any major life changes, be sure to consult your lender – someone who's qualified to explain how your financial decisions may impact your home loan.
Here's a list of things you shouldn't do after applying for a mortgage. They're all important to know – or simply just good reminders – for the process.
1. Don't Deposit Cash into Your Bank Accounts Before Speaking with Your Bank or Lender.
Lenders need to source your money, and cash isn't easily traceable. Before you deposit any amount of cash into your accounts, discuss the proper way to document your transactions with your loan officer.
2. Don't Make Any Large Purchases Like a New Car or Furniture for Your Home.
New debt comes with new monthly obligations. New obligations create new qualifications. People with new debt have higher debt-to-income ratios. Since higher ratios make for riskier loans, qualified borrowers may end up no longer qualifying for their mortgage.
3. Don't Co-Sign Other Loans for Anyone.
When you co-sign, you're obligated. With that obligation comes higher debt-to-income ratios as well. Even if you promise you won't be the one making the payments, your lender will have to count the payments against you.
4. Don't Change Bank Accounts.
Remember, lenders need to source and track your assets. That task is much easier when there's consistency among your accounts. Before you transfer any money, speak with your loan officer.
5. Don't Apply for New Credit.
It doesn't matter whether it's a new credit card or a new car. When you have your credit report run by organizations in multiple financial channels (mortgage, credit card, auto, etc.), your FICO® score will be impacted. Lower credit scores can determine your interest rate and possibly even your eligibility for approval.
6. Don't Close Any Credit Accounts.
Many buyers believe having less available credit makes them less risky and more likely to be approved. This isn't true. A major component of your score is your length and depth of credit history (as opposed to just your payment history) and your total usage of credit as a percentage of available credit. Closing accounts has a negative impact on both of those determinants of your score.
Any blip in income, assets, or credit should be reviewed and executed in a way that ensures your home loan can still be approved. If your job or employment status has changed recently, share that with your lender as well. The best plan is to fully disclose and discuss your intentions with your loan officer before you do anything financial in nature.
To succeed as a buyer in today's market, it's important to understand which market trends will have the greatest impact on your home search. Danielle Hale, Chief Economist at realtor.com, says there are two factors every buyer should keep their eyes on:
"Going forward, the conditions buyers face are primarily dependent on two things: mortgage rates and housing supply."
Here's a look at each one.
Mortgage Rates Projected To Rise in 2022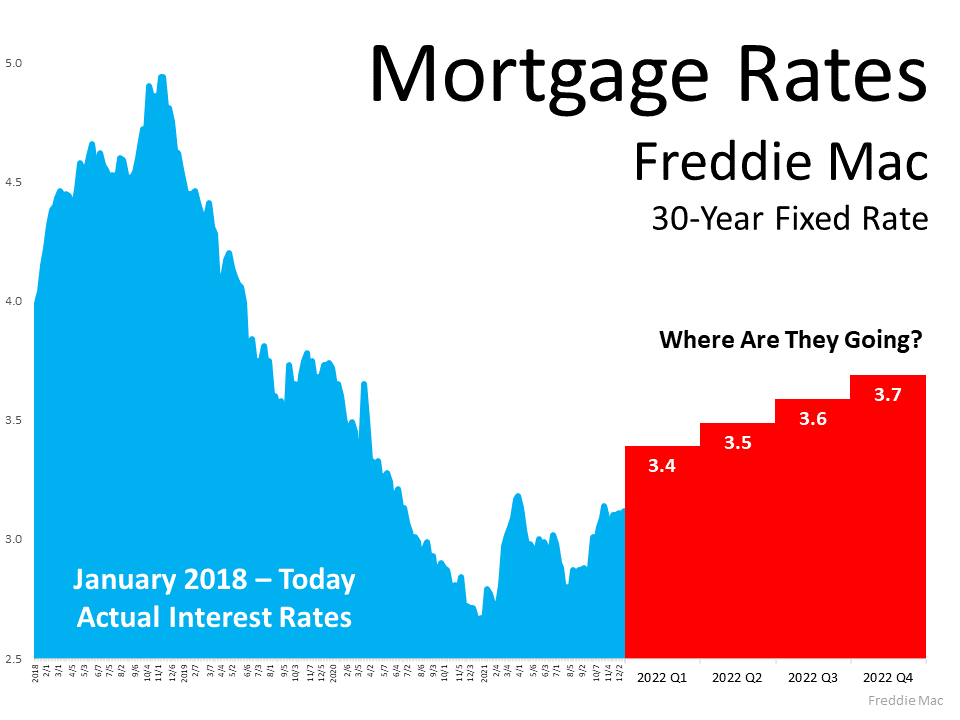 As a buyer, your interest rate directly impacts how much you'll pay on your monthly mortgage when you purchase a home. Rates are beginning to rise, and experts forecast they'll continue going up in 2022 (see graph below):As the graph shows, mortgage rates are expected to climb next year. But they're still low when you compare to where they were just a few years ago. That presents today's buyers with some motivation to lock in a low mortgage rate before they climb higher.
More Homes Are Expected To Be Available This Season
The other market condition buyers need to monitor is the number of homes available for sale today. The latest Existing Home Sales Report from the National Association of Realtors (NAR) shows the current supply of inventory sits at just 2.4-months. To put that into perspective, a 6-month supply is ideal for a balanced market where there are enough homes to meet buyer demand.
However, there may be good news for buyers who are waiting for more options. A recent realtor.com survey shows more sellers are planning to list their homes this winter, meaning more choices will likely be available soon.
What Does That Mean for You?
Even if your options improve some this season, it won't significantly shift market conditions overnight. According to NAR, many more listings need to be available to move closer to a more neutral market:
"Given the average monthly demand . . . , 3.55 million homes should be on the market to meet a level of inventory equal to six months of demand, implying a shortage of homes for sale of 2.24 million."
So remember, even with more homes expected to come to market this season, competition among buyers will remain fierce as there still won't be enough homes for sale to meet the current demand. That means you'll need to act quickly when you're ready to make an offer.
If you're planning on buying a home this winter, more options are welcome news, but it doesn't mean you should slow down. Let's connect today so you have an expert on your side to help act as quickly as possible when the right home for you hits the market.

2022 Housing Market Forecast [INFOGRAPHIC]
Some Highlights
What does the coming year hold for the housing market? Here's what experts project for 2022.
Mortgage rates are projected to rise and so are home prices. Experts are forecasting buyer demand will remain strong as people try to capitalize on rates and prices before they climb, creating another strong year for home sales.
Let's connect so you can make your best move in the new year.