Since the number of homes for sale is low today, it can feel challenging to find one that checks all your boxes. But if you know which features are absolutely essential in your next home and which ones are just nice bonuses, you can land a home that fits your needs.
Danielle Hale, Chief Economist for realtor.com, explains it like this:
"Focus on the goal you set out for yourself, like your list of must-haves and nice-to-haves and your budget, . . . Stick to that. Be persistent."
So how do you go about creating your list of desired features? The first step is to get pre-approved for your mortgage. Pre-approval helps you better understand your budget, and that plays an important role in how you'll craft your list. After all, you don't want to fall in love with a home that's too far out of reach.
Once you have a good grasp of your budget, you can begin to list all the features of a home you would like. Here's a great way to think about them before you begin:
Must-Haves – If a house doesn't have these features, it won't work for you and your lifestyle (examples: distance from work or loved ones, number of bedrooms/bathrooms, etc.).
Nice-To-Haves – These are features that you'd love to have but can live without. Nice-To-Haves aren't dealbreakers, but if you find a home that hits all the must-haves and some of the these, it's a contender (examples: a second home office, garage, etc.).
Dream State– This is where you can really think big. Again, these aren't features you'll need, but if you find a home in your budget that has all the must-haves, most of the nice-to-haves, and any of these, it's a clear winner (examples: farmhouse sink, multiple walk-in closets, etc.).
Finally, once you've created your list and categorized it in a way that works for you, discuss it with your real estate advisor. They'll be able to help you refine the list further, coach you through the best way to stick to it, and find a home in your area that meets your needs.
Bottom Line
Crafting your home search checklist may seem like a small task, but it can save you time and money. It's also one of the keys to being successful in today's competitive market. Let's connect so we can work together to find a home that fits your wants and needs.
Simple kitchen and bath improvements can leave home shoppers swooning over a listing, according to a new study by Knock, a site about homeownership.
Homes are selling fast, but certain home updates can help them sell even faster. An updated home can sell an average of 30% faster than a home without improvements, the analysis shows.
Knock compared the average days on the market for homes that are updated before being listed with those that sellers leave as is. It pinpointed which home updates tend to result in the fastest sales.
"Getting a home ready for sale can be a stressful experience, and the supply chain constraints and contractor backlogs brought on by the pandemic have made it even more difficult to get work done," says Sean Black, co-founder of Knock. "Three years ago, homeowners had to put a lot more work into their home before listing it. However, even in the current market with homes selling in record time, the data continues to support the benefits of getting your home show-ready."
Knock was selected for the 2021 REACH class, a technology accelerator program through Second Century Ventures, the strategic investment arm of the National Association of REALTORS®.
Homes with modern renovations sold in an average of eight days, compared with an average of 12 days without improvements. Homes with two or more improvements sold in an average of six days, according to Knock.
The most common home improvement: interior and exterior paint. Seventy percent of sellers painted their walls, spending an average of $3,500.
But freshly painted kitchen cabinets, which cost an average of about $1,319, really help buyers fall in love with a house, the study shows.
Here are the updates that consumers say they most loved about a house.
New Year, Same Housing Market
Quick Take:
Historically low supply continues to drive up home prices across the nation. However, home price increases are decelerating after the record-setting gains experienced over the past two years.
The number of homes sold in 2021 is one of the highest on record.
Current inflation levels imply a negative borrowing rate because mortgage rates are below 6%. This means that borrowers are getting paid to borrow and should pay as little principle as possible until inflation recedes.
The average 30-year fixed mortgage rate remained historically low, at 3.11% at the end of December 2021. But the Fed has indicated there will be at least two rate hikes in 2022.
Will the housing shortage reverse?
The driving force behind the substantial price increases over the past two years has been the supply of homes, or lack thereof. So, will the housing shortage reverse? The answer is no, as there is no reasonable scenario that would bring active listings to pre-pandemic norms. Before February 2020, seasonal inventory typically peaked in the summer months, but it was trending slightly lower each year. In 2016, inventory peaked at 1.55 million active listings, and by 2019, the peak fell to 1.35 million homes. Inventory in 2021 reached its highest point at approximately 621,000, a 54% decline over two years. Homebuilders simply cannot build fast enough, especially in sought-after urban areas that have already been developed, and new listings are peaking far lower than the historical seasonal norms.
At the same time, we are on pace to see around a million more homes sold in 2021 than in a typical year, based on the long-term average. In other words, more homes are selling, despite the historically low inventory, which is further driving down inventory. In 2022, we expect demand to remain elevated and supply depressed, which should keep home prices from depreciating.
Price appreciation likely will not see the record gains we experienced over the past two years, which is actually good. If we learned one thing from the mid-2000s, we know that we don't want another housing bubble. The deceleration in price increases, therefore, actually benefits the current market. From a practical standpoint, home prices rising at 20% per year is unsustainable and would certainly cause a major collapse. Moving through 2022, we expect year-over-year price increases to move back to historical norms, in the 5–10% range.
Fed rate hikes in 2022 could drastically affect appreciation as well, which, again, isn't a bad thing. The low-cost financing we've seen over the past two years could be coming to an end (although it's difficult not to take a believe-it-when-I-see-it-approach to rate increases). When we account for current inflation, which is the highest it's been since 1981, the real rate of borrowing is negative if you borrow at a rate below 6.8%. Simply put, you're getting paid to borrow! We don't expect this phenomenon to last long — it's a fairly unique situation.
The market remains competitive for buyers, but conditions are making it an exceptional time for homeowners to sell. Low inventory means sellers will receive multiple offers with fewer concessions. Because sellers are often selling one home and buying another, it's essential that sellers work with the right agent to ensure the transition goes smoothly.
Home prices still have room to run in 2022
After single-family home prices appreciated significantly in the first half of 2021, it makes sense that prices would decline in the third and fourth quarters. North and East Bay prices experienced the most substantial decrease in the second half of the year, although all regions declined. However, as inventory continues to decline, as is typical in the winter season, prices will likely increase.
Condo prices declined less significantly in the second half, and San Francisco condos increased to a record high in November. This is the first new high we've seen in over a year in San Francisco. The pandemic hit demand for condos hard, but price and sales indicate that demand is back. Although the price appreciation wasn't as pronounced for condos as it was for single-family homes, we expect price appreciation to slow as we move through the winter months, a seasonal norm.
Nearing record low inventory once again
Despite the slight increase in single-family home inventory in the first half of 2021, the sustained high demand and lack of new listings in the second half brought single-family home and condo supply to near historic lows. Once again, we are seeing that far more people want to live in the Greater Bay Area than want to leave. Sales in the Bay Area have been incredibly high, especially when accounting for available inventory, again highlighting demand. Sellers can expect multiple offers, and buyers should come with competitive offers.
Months of Supply Inventory further indicates high demand
Homes are still selling extremely quickly. The Days on Market reflects the high demand for homes in the Greater Bay Area. Buyers must put in competitive offers above the list price of the home.
Months of Supply Inventory (MSI) quantifies the supply/demand relationship by measuring how many months it would take for all current homes for sale on the market to sell at the current rate of sales. The average MSI is three months in California, which indicates a balanced market. An MSI lower than three indicates that there are more buyers than sellers on the market (meaning it's a sellers' market), while a higher MSI indicates there are more sellers than buyers (meaning it's a buyers' market). MSI in the Greater Bay Area is historically low for single-family homes and condos, indicating a strong sellers' market.
If you're following along with the news today, you're probably hearing a lot about record-breaking home prices, rising consumer costs, supply chain constraints, and more. And if you're thinking about purchasing a home this year, all of these inflationary concerns are likely making you wonder if you should wait to buy. Investopedia explains that during a period of high inflation, prices rise across the board. And while home prices aren't immune from this increase, here's why inflation shouldn't stop you from buying a home in 2022.
Homeownership Offers Stability and Security
Home prices have been increasing for quite some time, and experts say they're going to continue to climb throughout 2022. So, as a buyer, how can you protect yourself from rising costs for things like food, shelter, entertainment, and other goods and services? The answer lies in housing.
Buying a home allows you to lock in your monthly mortgage payment for the foreseeable future. That means as other prices rise, your monthly payment will be consistent thanks to your fixed-rate mortgage. This gives you the peace of mind that the bulk of your housing costs is shielded from inflation.
James Royal, Senior Wealth Management Reporter at Bankrate, says:
"A fixed-rate mortgage allows you to maintain the biggest portion of housing expenses at the same payment. Sure, property taxes will rise and other expenses may creep up, but your monthly housing payment remains the same."
If you rent, you don't have that same benefit and you won't be protected from rising housing costs. As an added incentive to buy, consider that today's mortgage interest rates are lower than they have been in decades. While inflation decreases what your dollars can buy, low mortgage rates help counteract it by boosting your purchasing power so you can get more home for your money. They also help keep your monthly payments down. This is especially important during an inflationary period because you'll want to protect yourself from the impact of inflation as much as possible.
Ali Wolf, Chief Economist at Zonda, explains:
"If you have cash and are expecting inflation, you want to think through where you can put your money so it does not lose value. Housing is commonly looked at as a good inflation hedge, especially with interest rates so low."
The best hedge against inflation is a fixed housing cost. That's why you shouldn't let it stop you from buying a home this year. Not sure where to start? Let's connect so you have expert advice and help throughout every step of the homebuying process.
If you're looking to buy a home, you may want to put these items on your to-do list to ensure you hit your goals.
It's important to start working on your credit and saving for a down payment early. When you're ready to begin your search, work with a real estate professional and get pre-approved so you know how much you can borrow.
Connect with us so you have the guidance you need to achieve your homebuying goals this year.
As we move into 2022, both buyers and sellers are wondering, what's next? Will there be more homes available to buy? Will prices keep climbing? How high will mortgage rates go? For the answer to those questions and more, we turn to the experts. Here's a look at what they say we can expect in 2022.
Odeta Kushi, Deputy Chief Economist, First American:
"Consensus forecasts put rates at about 3.7% by the end of next year. So, that's still historically low, but certainly higher than they are today."
Danielle Hale, Chief Economist, realtor.com:
"Affordability will increasingly be a challenge as interest rates and prices rise, but remote work may expand search areas and enable younger buyers to find their first homes sooner than they might have otherwise. And with more than 45 million millennials within the prime first-time buying ages of 26-35 heading into 2022, we expect the market to remain competitive."
Lawrence Yun, Chief Economist, National Association of Realtors (NAR):
"With more housing inventory to hit the market, the intense multiple offers will start to ease. Home prices will continue to rise but at a slower pace."
George Ratiu, Manager of Economic Research, realtor.com:
"We also expect a growing number of homeowners to bring properties to market, taking some pressure off high prices and offering buyers more options."
Mark Fleming, Chief Economist, First American:
"Strong demographic demand will continue to act as the wind in the housing market's sails."
What Does This Mean for Buyers?
Hope is on the horizon for 2022. You should see your options grow as more homes are listed and some of the peak intensity of buyer competition starts to ease. Just remember, rising rates and prices are a great motivator for you to find the home of your dreams sooner rather than later so you can buy while today's affordability is still in your favor.
What Does This Mean for Sellers?
Make no mistake – this sellers' market will remain in 2022 as home prices are projected to continue climbing, just at a more moderate pace. Selling your house while buyer demand is so high will truly put you in the driver's seat. But don't wait too long. With more listings projected to become available, your ideal window of opportunity to stand out from the crowd won't last forever. Work with an agent who knows your local market and current inventory conditions to ensure you have the support you need to make an educated and informed decision about selling in the coming year.
If you're thinking of buying or selling, 2022 may be your year. Let's connect to discuss your goals and the unique opportunities you have in today's housing market.
Once you've found your dream home and applied for a mortgage, there are some key things to keep in mind before you close. It's exciting to start thinking about moving in and decorating your new place, but before you make any large purchases, move your money around, or make any major life changes, be sure to consult your lender – someone who's qualified to explain how your financial decisions may impact your home loan.
Here's a list of things you shouldn't do after applying for a mortgage. They're all important to know – or simply just good reminders – for the process.
1. Don't Deposit Cash into Your Bank Accounts Before Speaking with Your Bank or Lender.
Lenders need to source your money, and cash isn't easily traceable. Before you deposit any amount of cash into your accounts, discuss the proper way to document your transactions with your loan officer.
2. Don't Make Any Large Purchases Like a New Car or Furniture for Your Home.
New debt comes with new monthly obligations. New obligations create new qualifications. People with new debt have higher debt-to-income ratios. Since higher ratios make for riskier loans, qualified borrowers may end up no longer qualifying for their mortgage.
3. Don't Co-Sign Other Loans for Anyone.
When you co-sign, you're obligated. With that obligation comes higher debt-to-income ratios as well. Even if you promise you won't be the one making the payments, your lender will have to count the payments against you.
4. Don't Change Bank Accounts.
Remember, lenders need to source and track your assets. That task is much easier when there's consistency among your accounts. Before you transfer any money, speak with your loan officer.
5. Don't Apply for New Credit.
It doesn't matter whether it's a new credit card or a new car. When you have your credit report run by organizations in multiple financial channels (mortgage, credit card, auto, etc.), your FICO® score will be impacted. Lower credit scores can determine your interest rate and possibly even your eligibility for approval.
6. Don't Close Any Credit Accounts.
Many buyers believe having less available credit makes them less risky and more likely to be approved. This isn't true. A major component of your score is your length and depth of credit history (as opposed to just your payment history) and your total usage of credit as a percentage of available credit. Closing accounts has a negative impact on both of those determinants of your score.
Any blip in income, assets, or credit should be reviewed and executed in a way that ensures your home loan can still be approved. If your job or employment status has changed recently, share that with your lender as well. The best plan is to fully disclose and discuss your intentions with your loan officer before you do anything financial in nature.
To succeed as a buyer in today's market, it's important to understand which market trends will have the greatest impact on your home search. Danielle Hale, Chief Economist at realtor.com, says there are two factors every buyer should keep their eyes on:
"Going forward, the conditions buyers face are primarily dependent on two things: mortgage rates and housing supply."
Here's a look at each one.
Mortgage Rates Projected To Rise in 2022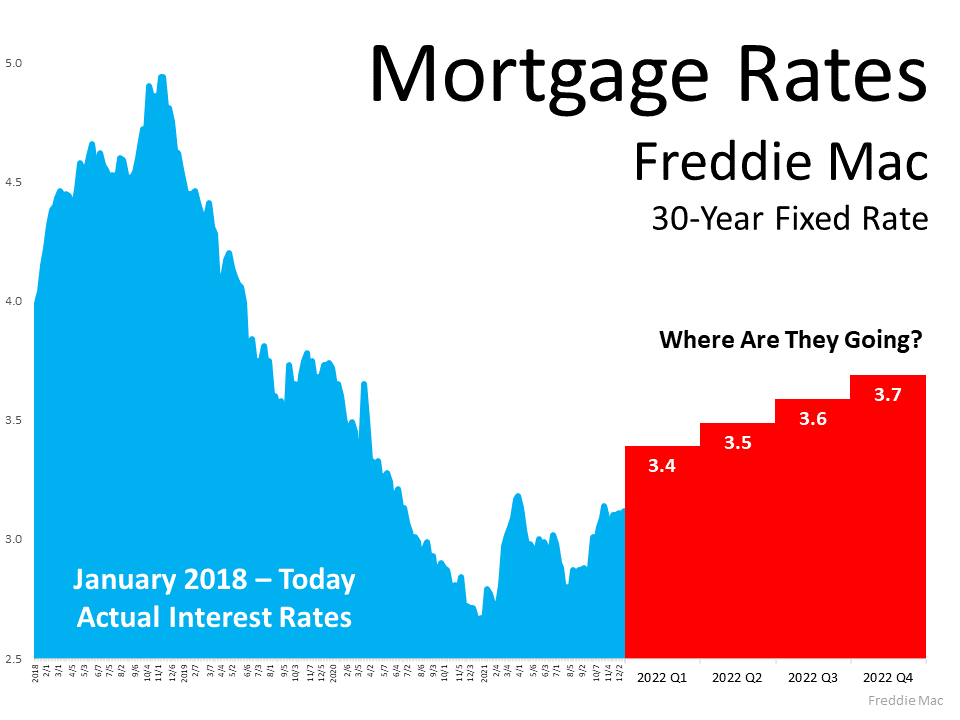 As a buyer, your interest rate directly impacts how much you'll pay on your monthly mortgage when you purchase a home. Rates are beginning to rise, and experts forecast they'll continue going up in 2022 (see graph below):As the graph shows, mortgage rates are expected to climb next year. But they're still low when you compare to where they were just a few years ago. That presents today's buyers with some motivation to lock in a low mortgage rate before they climb higher.
More Homes Are Expected To Be Available This Season
The other market condition buyers need to monitor is the number of homes available for sale today. The latest Existing Home Sales Report from the National Association of Realtors (NAR) shows the current supply of inventory sits at just 2.4-months. To put that into perspective, a 6-month supply is ideal for a balanced market where there are enough homes to meet buyer demand.
However, there may be good news for buyers who are waiting for more options. A recent realtor.com survey shows more sellers are planning to list their homes this winter, meaning more choices will likely be available soon.
What Does That Mean for You?
Even if your options improve some this season, it won't significantly shift market conditions overnight. According to NAR, many more listings need to be available to move closer to a more neutral market:
"Given the average monthly demand . . . , 3.55 million homes should be on the market to meet a level of inventory equal to six months of demand, implying a shortage of homes for sale of 2.24 million."
So remember, even with more homes expected to come to market this season, competition among buyers will remain fierce as there still won't be enough homes for sale to meet the current demand. That means you'll need to act quickly when you're ready to make an offer.
If you're planning on buying a home this winter, more options are welcome news, but it doesn't mean you should slow down. Let's connect today so you have an expert on your side to help act as quickly as possible when the right home for you hits the market.

2022 Housing Market Forecast [INFOGRAPHIC]
Some Highlights
What does the coming year hold for the housing market? Here's what experts project for 2022.
Mortgage rates are projected to rise and so are home prices. Experts are forecasting buyer demand will remain strong as people try to capitalize on rates and prices before they climb, creating another strong year for home sales.
Let's connect so you can make your best move in the new year.
The sense of pride you'll feel when you purchase a home can't be overstated. For first-generation homebuyers, that feeling of accomplishment is even greater. That's because the pride of homeownership for first-generation buyers extends far beyond the homebuyer. AJ Barkley, Head of Neighborhood and Community Lending for Bank of America, says:
"Achieving this goal can create a sense of pride and accomplishment that resonates both for the buyer and those closest to them, including their parents and future generations."
In other words, your dream of homeownership has far-reaching impacts. If you're about to be the first person in your family to buy a home, let that motivate you throughout the process. As you begin your journey, here are three helpful tips to make that dream come true.
1. Reach Out to a Real Estate Professional
It's important to reach out to a trusted advisor early in your homebuying process. Not only can an agent help you find the right home, but they'll serve as your expert advisor and answer any questions you might have along the way.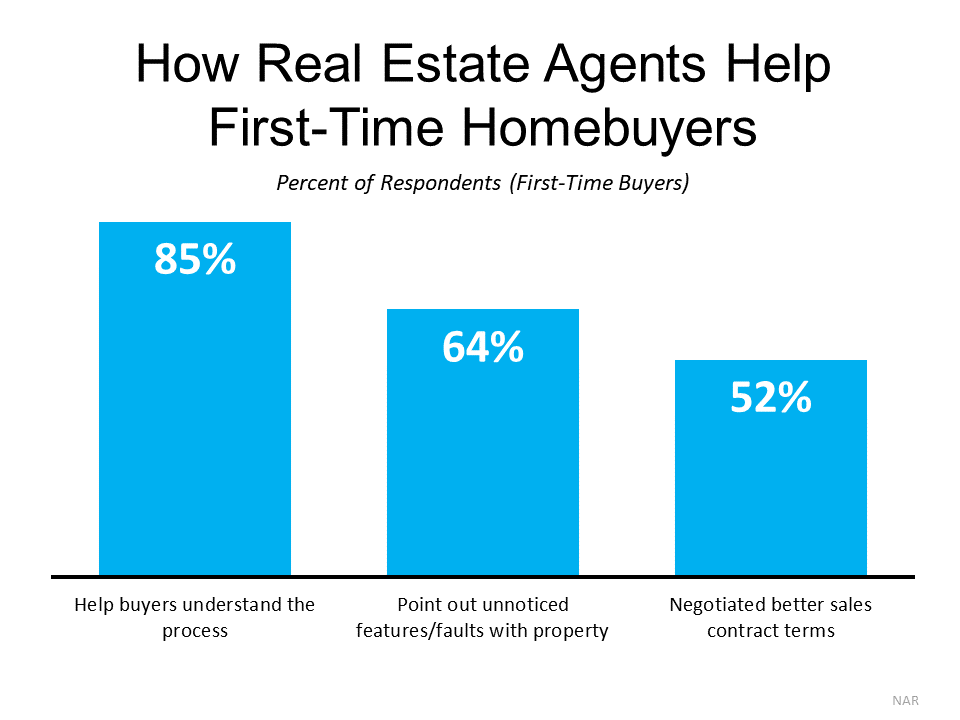 The latest Profile of Home Buyers and Sellers from the National Association of Realtors (NAR) surveyed first-time homebuyers to see how their agent helped them with their home purchase (see chart below):
As the graph shows, your agent is a great source of information throughout the process. They'll help you understand what's happening, assess a home's condition, and negotiate a contract that has the best possible terms for you. These are just some of the reasons having an expert in your corner is critical as you navigate one of the most significant purchases of your life.
2. Do Your Research and Know What You Can Afford
The second piece of advice for first-generation homebuyers is practical: do your research so you know what you can afford. That means getting your finances in order, reviewing your budget, and getting pre-approved through a lender. It also means learning the ins and outs of what it takes to pay for your home, including what you'll need for a down payment.
Many homebuyers believe the common misconception that you can't purchase a home without coming up with a 20% for a down payment. As Freddie Mac says:
"The most damaging down payment myth—since it stops the homebuying process before it can start—is the belief that 20% is necessary."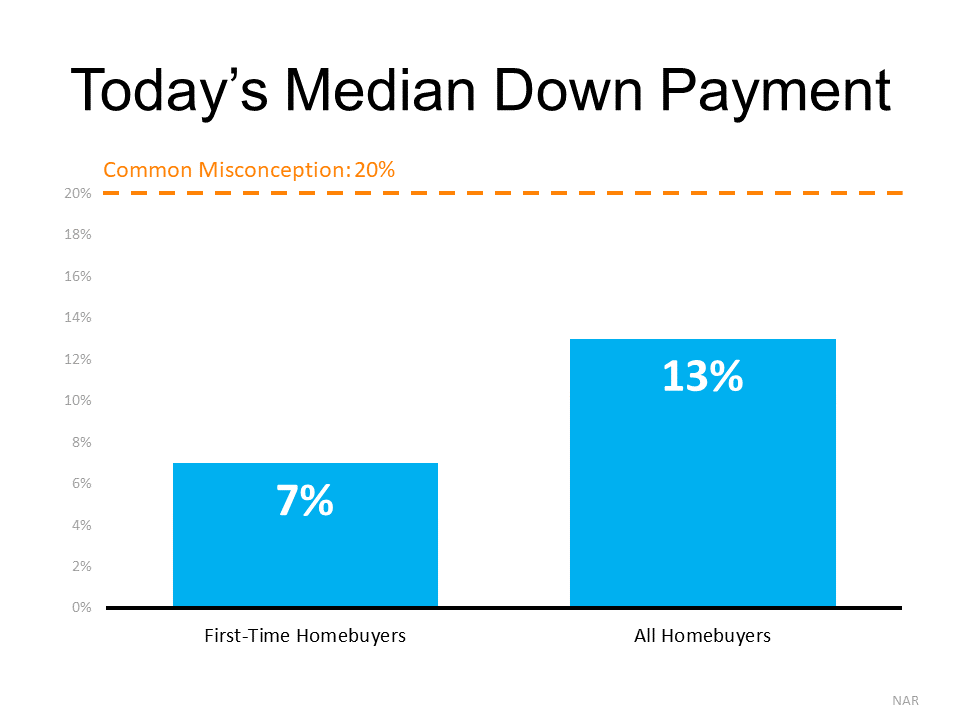 The chart below shows what recent homebuyers have actually put down on their purchases:
On average, first-time buyers only put 7% down on their home purchase. That's far less than the 20% many people believe is necessary. That means your down payment, and your home purchase, may be in closer reach than you realize. Keep that in mind as you work with a real estate professional to better understand what you'll need for your purchase.
3. Don't Lose Sight of What Home Means to You
Finally, it's important keep in mind why you're searching for a home to begin with. Overwhelmingly, first-generation homeowners recognize the financial and non-financial benefits of owning a home. In fact, in a recent survey:
73% of first-generation homeowners say the safety and security homeownership provides is increasing in importance.
Nearly two-thirds of first-generation homeowners say the importance of building equity in a home is growing more important as well.
As AJ Barkley explains:
"For many first-generation homeowners and their families, homeownership has a unique importance, given the collective efforts to overcome financial challenges that can often span generations…"
If you're a first-generation homebuyer, being prepared and working with a trusted expert is key to achieving your dream. Let's connect today so you can get started on your path to homeownership.